Twisters vs Orcas, Saturday, June 19, 2021
June 18th
Hi Twisters!
We are so excited for our second home meet tomorrow against the Westover Orcas! Please review important meet information below, as well as the meet heat sheet:
Arrival Time: Swimmers and volunteers should arrive between 6:30 AM and 6:45 AM
Warm ups:
Twisters: 7:10 AM - 7:30 AM
Redfish: 7:30 AM - 7:50 AM
Meet Start Time: 8:00 AM
Parking: Please park anywhere along Twin Creeks Club Drive but pay attention to fire hydrants and red curbs as you will be towed if you park illegally. Do not park on any side streets in Twin Creeks. You may not park in the club parking lot as this is for club and golf guests only. You may drop off your child in front of the pool and then find parking along Twin Creeks Club Drive.
Shift Change: We will do shift changes between events 38 and 39. A parent and coaches relay will occur during the shift change.
2021 Twisters COVID Policies and Protocols: We will be following the recommended NAAL COVID Safety Guidelines as follows:
Every team must designate a safety coordinator to plan for, monitor, enforce (if needed) these guidelines. If issues occur at any meet, safety coordinators will work together to resolve. Our safety coordinator is the meet director.
Masks are encouraged to be worn by everyone on deck unless they are eating, drinking or about to swim.
Social distancing (3 feet) must try to be maintained (as duties allow) on all premises.
Every pool must provide hand sanitizing stations at various locations
All participants (parents, volunteers, swimmers, coaches) must self screen and if they are not feeling well, have a cough, fever or any other COVID symptoms, they should not attend.
The league will follow any/all city and county guidance.
These are the minimum standards for all NAAL meets.
Volunteer Assignments Swim meets can run only with you – our volunteers (thank you!). Without your volunteer support, the meets will go long (hello afternoon heat and humidity). If you have a child swimming in the meet, one parent from your family must volunteer for at least one shift. Please login to our site and confirm what volunteer position/shift you signed up for and please show up to that position/shift on-time!
Spectators, Drop-off, and Meet Swimmer Flow (see diagram below):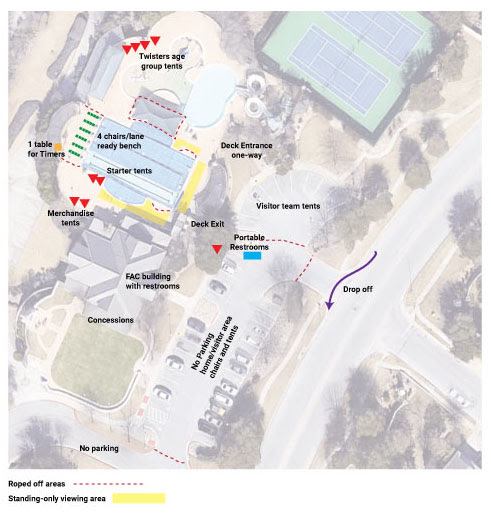 Diving: We will be diving from the blocks at the start end, the other end will be in water starts for relays.
Pool: 6 lanes, 25 Meters
Relays: We will have up to A-C relays in each event.
Let's get ready for an awesome swim meet! Please don't hesitate to let us know if you have any questions. Thank you for everything you do and GO TWISTERS!
Thank you,
Kristi Hobbs, Meet Director
512.653.09175531